Orange Bag Event
April 29 @ 10:00 am

-

2:00 pm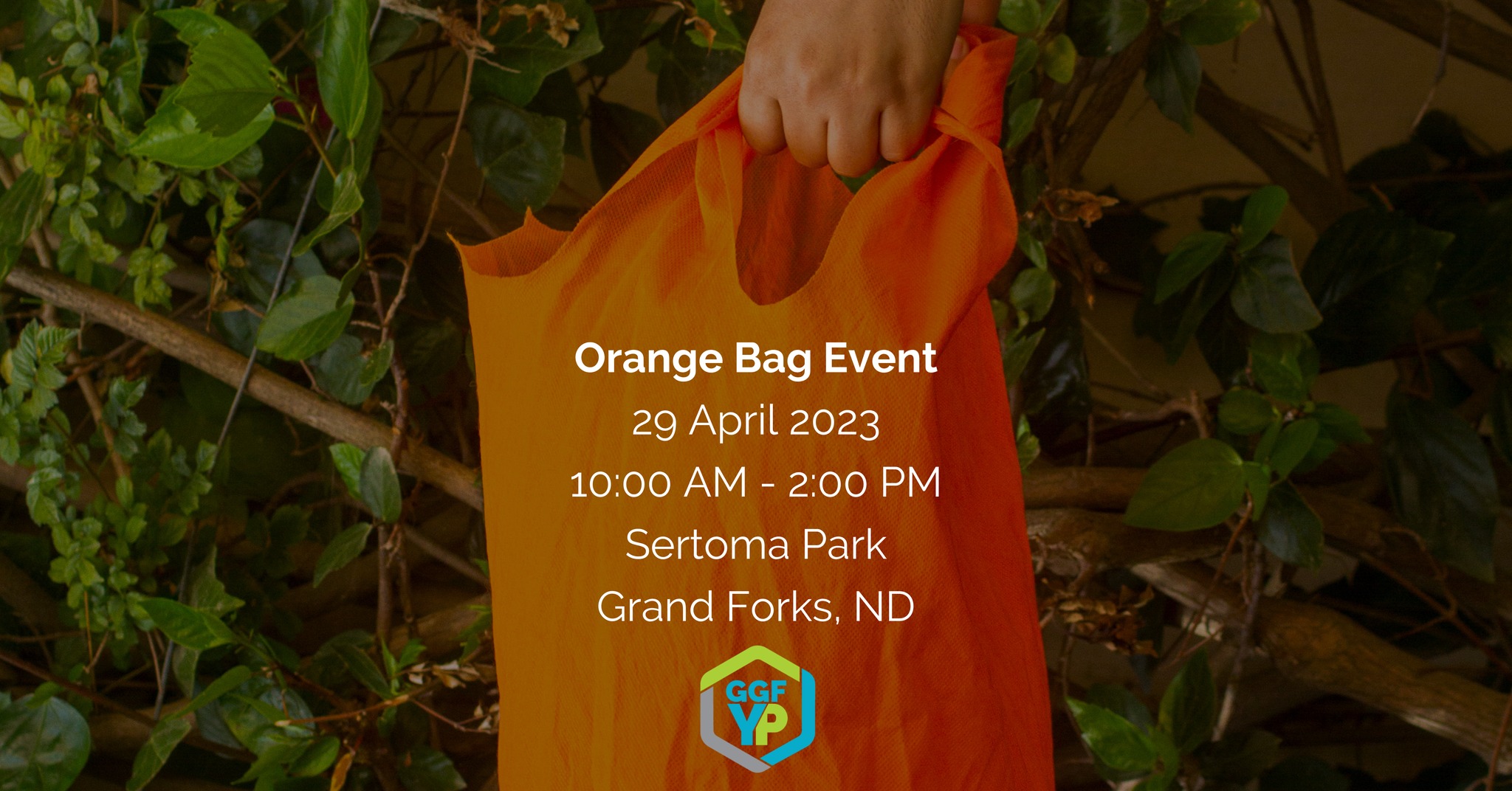 Sign up to help sort through donated items that will support non-profit organizations in the local area. Free lunch and Young Professionals T-Shirts will be supplied with event participation!
We're looking forward to seeing you there!
GGFYP is helping 8 different local organizations for this year's donation campaign and appreciate all the help we can get! If you received an orange bag, please have the bag on the boulevard by 10:00 am on Saturday, April 29th so our volunteers can easily pick it up and sort through the items. If you didn't receive an orange bag, you are still encouraged to drop off donations at Sertoma Park on the 29th anytime between 10:00 am and 2:00 pm.
See the list of items we are collecting below!
THE GREATER GRAND FORKS YOUNG PROFESSIONALS ARE COLLECTING DONATION ITEMS ON BEHALF OF THESE NONPROFITS:
COMMUNITY VIOLENCE INTERVENTION CENTER, RED RIVER VALLEY COMMUNITY ACTION, DAKOTA BOYS AND GIRLS RANCH, NORTHLANDS RESCUE MISSION, CIRCLE OF FRIENDS ANIMAL SHELTER,JOURNEY HOME ANIMAL RESCUE, SALVATION ARMY, SHAREHOUSE.
The items these organizations are most in need of are the following: Canned Veggies/Soup | Noodles | Spices | Tupperware |Washcloths | Socks | Office tri cut folders | Bedding | DVD's |Silverware | Rugs | Curtains | Microwave | Blender | Coffee Pot | Home Decor Items | Clothing | Shoes | Underwear | Cleaning Supplies | Lotion | Shampoo | Tampons | Pads | Diapers |Toilet Paper | Body Wash | Laundry Soap |Towels | Deodorant | Bar Soap | Toothpaste |Toothbrushes | Razors | Conditioner | Lotion |Face Wash | Combs | Chapstick | Sunscreen Razors | Baby Wipes | pull-ups | Garbage Bags |Kids Toothpaste | 2 in 1 Shampoo/Conditioner Towels | Pillowcases | Non-Clumping Litter |Kitten Food | Tide Pods | Clorox | Paper Towels | Hand Soap | Bleach |Dawn Dish Soap | Slip Leads | Garbage Bags |Revolution | Nexgard | Simparica | Credelio |Iverhart | Heartgard | Rescure Cleaner |Printer Paper